Here at Lime Tree Design, we are passionate about design and create most of the jewellery and textile products we sell. We are just as passionate about supporting other small UK based businesses too, such as those featured on our website. Click here to read more >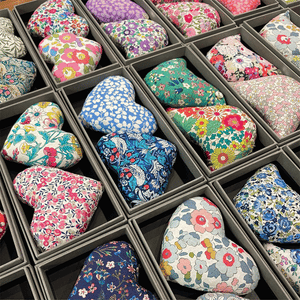 Cotton Hankies and Lavender Sachets made from Liberty Tana Lawn®
Our bestselling Liberty fabric products are designed by us and handsewn and filled - with luxurious Provençal lavender - by the talented women of Collingham.
We're proud to say that our products are sold in Liberty London and the RHS shop in Wisley.
Shop Liberty Print >
Lime Tree Design Jewellery
Our jewellery is designed by us in our Nottinghamshire studio. The original pieces are sculpted and then cast here too. Once we're happy with the original it goes out for production casting in small workshops in Birmingham's Jewellery Quarter. We also work with a specialised skilled studio in Jaipur, who do our semi-precious stone work.
Find out more >
Customer Reviews
"I just wanted to say that I have never received anything through the post so beautifully wrapped and packaged. Obviously, the contents are fabulous too.."
"This is the third locket I've bought from Lime Tree Design. My first has been worn almost daily for over a year and is still perfect The engraving is very clear and well-executed. I think that this is an elegant item of high quality and excellent value."
"Good quality handkerchiefs beautifully packed."
"I have been looking everywhere for the right St.Christopher for my husband. Finally found a perfect one and had it personalised with my own choice of message. My husband loved it and the message I chose to have on it"
"Beautiful earrings - love the simple, classic design. Gorgeous packaging."